The James A. Michener Legacy Circle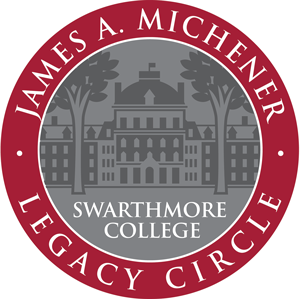 The James A. Michener Legacy Circle
An orphan from a small town in Pennsylvania, James A. Michener '29 arrived at Swarthmore College in 1925 on a scholarship. He would go on to become one of America's most popular and beloved writers. The best-selling author of more than 40 novels, short story collections, and works of nonfiction, Michener is perhaps best known for his Pulitzer Prize-winning Tales of the South Pacific, which would be turned into the classic Broadway musical and Oscar-winning film South Pacific.
Michener felt indebted to Swarthmore for his education and the opportunities it provided him. Among the College's first to graduate with highest honors in English, Michener credited the academic rigor of the honors program with preparing him to compose his impeccably researched, multi-generational stories. He also drew on the Quaker values instilled in him at Swarthmore, frequently tackling themes of racial injustice and societal inequalities in his work. Demonstrating his commitment to social progress, Michener provided the funds to transform Robinson House from a faculty residence/dorm into the Swarthmore Black Cultural Center in 1970.
Upon his passing in 1997, Michener left Swarthmore College not only the bulk of his estate (valued at approximately $10 million) but also the royalties and copyrights to 43 books. These royalties, especially from South Pacific, have provided the College with a steady revenue stream. The "James A. Michener Legacy Circle" could not be more aptly named: It honors alumni, parents, and friends of the College who have made a gift to Swarthmore that matures in the future or lasts in perpetuity. Such gifts constitute one of the most significant ways donors can strengthen and sustain the College's mission.
If you have helped build the future of Swarthmore with a gift through a will, trust, IRA account, 401(k), 403(b), life insurance policy, life income gift—or if you have made a qualifying gift to an endowment fund—you are invited to become a James A. Michener Legacy Circle member. Please contact Jessica Cunningham, submit an application online, or download and print a paper application [pdf].
Estate Commitments
Friends and alumni who will be at least 70 years of age by December 31, 2020, may have their bequests included in the College's next comprehensive campaign. Learn more.