Meet Our Donors
Margaret Nordstrom '70: Preservation Activism Leads Alumna Into Politics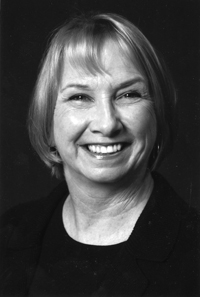 In her capacity as director of the Morris County Board of Chosen Freeholders, Margaret Nordstrom '70 regularly wields a gavel as she presides over numerous committee meetings and public sessions. In New Jersey where she lives, local officials are still called by colonial-era titles, but the position is equivalent to heading the county commission.
For the past 17 years Margaret has held elective office (although she lost her first race to an incumbent by only six votes) after "backing into" politics from her involvement in land and historic-preservation activism. Morris County is just west of New York City and faces many of the suburbanization pressures of a large metropolitan area, including disappearing farmland. She values the opportunity to work on a balance among preserving open space, improving aging infrastructures, providing opportunity for increasing minority populations, and strengthening bedroom communities. The Freeholders oversee a budget of $280,000,000—as Margaret notes, "a good chunk of change. I even have to evaluate the purchase of backhoes and equipment for the recreation department."
Margaret is quick to credit Swarthmore College and the analytical thinking skills she learned there for her courage to go into politics. She says, "I'm not daunted by the areas with which I am not familiar, because Swarthmore has given me the confidence to believe that I can overcome them, if I work at it."
With the endorsement of her husband Bill, Margaret has included the College in her estate plan. She wants to support an institution that "provides a significant intellectual challenge and helps people stretch." While she has not specified how her bequest should be used, Margaret thinks it's a great idea to have a moving sidewalk from the bottom of campus to the top of the hill!