Meet Our Donors
Going Green Feels and Tastes Good for Scott Cowger '82 and His Visitors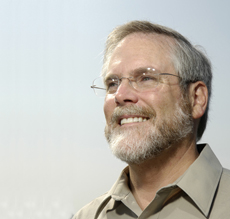 Mornings arrive at Maple Hill Farm with a colorful feast of wild Maine blueberry pancakes, north woods syrup, fruits and berries, orange juice, Fair Trade coffee, and cooked-to-order eggs gathered from the farm's free-range chickens—all served in an atmosphere ripe with green initiatives.
The award-winning bed-and-breakfast and convention center in Hallowell, Maine, is owned and operated by Swarthmore alumnus Scott Cowger '82, who has a bachelor's degree in civil and environmental engineering, and his partner.
Benefits of a Solid Foundation
After graduation Scott worked as a civil engineer for 12 years and then spent 10 years in the Maine legislature. There, he earned a reputation for helping people work together to find ways to get things done, using the Quaker-based consensus model he first learned at Swarthmore combined with the problem-solving skills he developed as an engineer.
These days, as an innkeeper, Scott is recognized nationally as an environmental leader and known for his commitment to weaving sustainability and other green initiatives into the mosaic of life at Maple Hill Farm—including a wind turbine and large solar electric and thermal system that generate renewable energy.
He credits his education at Swarthmore with helping him develop many of the social skills and personal values that enhance his work and life today. "The biggest thing that Swarthmore did for me was teach me how to learn throughout my entire life and how to apply that learning to make positive change and leave a mark on the world," Scott says.
It was from the Swarthmore community that he learned the importance of people coming together to care for and interact with each other, Scott says. "As innkeepers, we apply that value by being socially responsible and in making other people's lives better—by creating memories and good experiences for them."
Giving Back to Build a Better Future
Scott recently informed Swarthmore that he has included the College in his estate plans. He has great satisfaction in knowing that Swarthmore will use his planned gift to "instill those same values in other future leaders in society, who then will leave their mark and be an example to others," Scott says.
There are many ways to include Swarthmore in your estate plans. Click here to explore your options and benefits.
"I never fully appreciated this right out of college," he adds, "but as life goes on I appreciate more and more the values that Swarthmore helped instill, and when I think about leaving this world some day, I hope that I will have left it a better place."
"Bequest gifts represent a significant means of support for a Swarthmore education, which going back to our Quaker roots, emphasizes social responsibility and a commitment to the environment," says Mike Valoris, Swarthmore's director of gift planning. "Bequests—large and small—enable Swarthmore to educate alumni who, like Scott Cowger, use their Swarthmore education to have a positive impact on society."