Meet Our Donors
Carol Dubivsky Becker '57: Ensuring a Swarthmore Education for Future Generations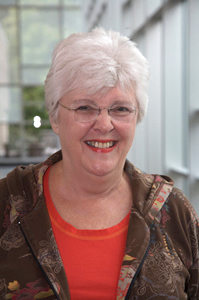 From her first day on campus, Carol met people who knew about folk music, had never seen the ocean, had vacationed in Europe, and had been conscientious objectors. Listening to students who were unafraid to question and debate political issues and government policies led Carol to major in political science and international relations. She spent most of her career working for the U.S. Department of State in Washington, D.C., until she retired in 2003.
Desiring to support Swarthmore and have a secure source of additional retirement income, Carol established two charitable gift annuities with the College. "One doesn't get rich working for the government," Carol says, "but these gifts were well within my means and they now give me steady, extra retirement earnings while benefiting a school to which I am indebted."
Fifteen years after graduation, plus marriage and three children, Carol received a master's degree in library science at the University of Maryland. Another 15 years later, Carol received a master's degree in public administration from Harvard's Kennedy School of Government.
Now living in northern Virginia, Carol volunteers at the National Archives working on Civil War records and doing Internet research for a national health service organization. She especially enjoys her paid position as a substitute public-library reference librarian. An enthusiastic world traveler, in 2010 Carol traveled to Patagonia and Tierra Del Fuego. She takes each grandchild on a domestic trip when they are old enough to appreciate it—usually to a major city.
Carol remains connected to Swarthmore, currently serving as class secretary and gift-planning class chair for the Class of '57. She previously served on the Alumni Council, and for her 50th reunion she was editor of the reunion yearbook. Through Carol's charitable gift annuities, she has helped ensure a Swarthmore education for future generations—maybe even for a grandchild someday.