Meet Our Donors
Carolyn Field '48: Crafting a Musical Path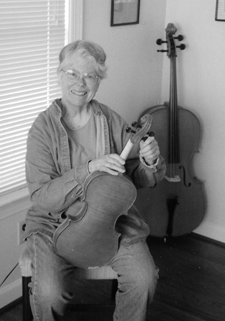 During a move to New York City from Texas, Carolyn Field's '48 beloved and well-used cello incurred some damage. She found that the cost of repair would have exceeded the instrument's value. The instrument, she admits, "was not of a very high quality."
This event led to an unexpectedly serendipitous life change for Carolyn. Although in her 50s, she took on the challenge of studying the creation and repair of stringed instruments with well-known artisan and master teacher Carleen Hutchins, whose studio was in Montclair, N.J. Eventually Carolyn's skill level enabled her to become an apprentice in the business.
Now Carolyn lives with her husband, Frank Field, in a stimulating retirement community, The Forest at Duke in Durham, N.C.—very near Duke University, Frank's alma mater. Carolyn continues her craft at a workshop she set up nearby, arranging the space to her taste, with numerous hand tools and other supplies at hand. What's more, she says, laughing, "I can leave a mess if I want to and just shut and lock the door."
Because she works almost entirely by hand, Carolyn's craft is labor-intensive and her annual output is modest. The kind of wood she uses affects the sound and tone of each instrument. To obtain the sturdy spruce used for the tops and the richly textured tiger maple for the sides and back, Carolyn orders wood and supplies from wholesalers with access to markets in North America, Europe, and Asia. In addition to her hobby, Carolyn continues to play chamber music, and she and Frank travel to visit their far-flung children and grandchildren.
As they planned their finances for retirement, the Fields decided to contribute to the educational institutions that offered them the opportunity to learn and gain experience. Because Carolyn always has valued her years at Swarthmore (passing along her enthusiasm to her daughter, Evelyn Rush Wilson '75), she decided to make two gift annuities to the College. She and Frank are grateful for an alternative to commercial annuity plans.
When asked if she wished her generous gifts to be used in any particular way, she replied: "I think Swarthmore College is an enchanting place: physically, intellectually, socially, and spiritually. When I had some money to invest, I sent it there, expecting to get a good return now and do some good in the future. I am sure it will be well used."