Meet Our Donors
Katie Ritter '79: Sidetracked by Swarthmore!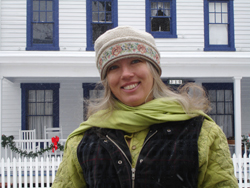 Kathryn "Katie" Ritter '79 values the liberal arts education she received at Swarthmore. "It was in that remarkable community that I truly learned to respect everyone's dignity and differences," she says. She and her husband have made an unrestricted bequest to Swarthmore, but Katie hopes it may be used for financial aid. The Swarthmore experience—even if it can sidetrack you—is one she wants to share!
Katie was an ambitious teenager. She decided at 13 to become a physician, setting her sights on Johns Hopkins University Medical School. Already accepted to Hopkins' undergraduate program, she visited Swarthmore on the advice of her school's headmaster. It was love at first sight, Katie says. "I've always enjoyed trees, and spending four years in the middle of an arboretum seemed a bit like heaven."
With her medical studies in mind, Katie concentrated on biology and the sciences. During her junior year she did an externship at a hospital in New York City. Her task was to interview female physicians, all of whom said they'd sacrificed a traditional family life for their careers.
Katie abandoned her long-cherished goal of becoming a doctor, and returning to campus she took up fine arts with enthusiasm, enrolling in all the studio art classes offered.
After graduation Katie eventually found her way to computer programming. She and her husband, a fellow programmer, acquired their own business, and they continue to consult in computer systems. They have three grown sons: one in college, one in the getting-started stage, and one on deployment in Afghanistan as a helicopter crew chief.
Last year Katie decided it was time for another "sidetrack." She yearned to earn her living working in the creative arts, and she and her husband agreed that she would take a year's unpaid leave of absence from work to explore options.
The first step was starting an eclectic weekend shop in Chesapeake City, Md. She's within a few thousand words of finishing her first novel, has written a children's book, and, most recently, she was tapped to help launch a new regional magazine, serving as editor and writer.
She reflects: "Even though I love to write, it's impossible to put into words what Swarthmore gave me … but I keep from that foundation a sense of perennial possibility. There's a quote I saw every day walking into my freshman room in Parrish: 'Use well thy freedom.' That's the plan."