Meet Our Donors
James H. '58 and Margaret C. Miller: Gift Creates Summer Internships for Environmental Preservation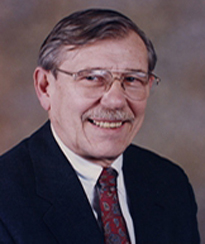 The Rev. James H. Miller '58, a retired Presbyterian minister, understands the close connections between theology, political science, and environmental stewardship. Of his Swarthmore gift to support the summer internship program, he says, "My wife and I are committed to preserving creation. It's a place where our theology and commitments are closely interwoven."
The origins of that commitment began in Miller's early days at Swarthmore College. While a political science major in the Honors Program at Swarthmore, Miller had an opportunity to have dinner with Paul Tillich, "one of the most renowned theologians of the 20th century." Tillich influenced him to attend Union Theological Seminary in New York, where he studied under Reinhold Niebuhr. Miller explains, "The prophetic voice of the church was strong in the 1960s—the most significant decade of our lives. Many of us believed you needed to have the Bible in one hand and the newspaper in the other to address issues of the day."
Today, Miller directs his passion for social outreach to the environment. His current Swarthmore gift has funded the James H. '58 and Margaret C. Miller Summer Internship for Environmental Preservation. The impact of this gift is significant. One Swarthmore student is undertaking an internship project in Beijing with the National Resources Defense Council to study emerging environmental issues in China. A second student has an internship with an advocacy and outreach consortium of environmental groups attempting to mobilize, educate, and organize New York state citizens to oppose fracking, an environmentally hazardous drilling technique used to extract natural gas.
In addition to his outright gift, Miller previously made a planned gift to Swarthmore. By setting up a charitable remainder trust, he established a student scholarship. He says, "It was a good way of returning the kind of benefits I received." Miller is originally from South Bend, Ind., and Swarthmore College initially seemed far away. But he wanted to attend a small liberal arts school with high academic credentials, and his mother suggested Swarthmore. Reflecting on his college experience, he says now, "I would never give up my four years there for anything."
With sincere gratitude, Miller emphasizes that his gifts are a way to show "appreciation for what Swarthmore meant to me in terms of life experience." He adds that students need the kind of liberal arts education that Swarthmore provides—with a focus on "creating good citizens and educating people." Through his generosity, he ensures that an extraordinary legacy of civic engagement and social responsibility will continue for future generations of Swarthmore students.