Meet Our Donors
A Legacy of Support: Early Gifts that Helped Shape Swarthmore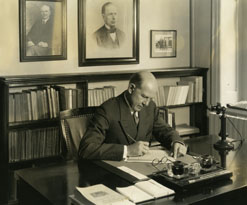 As Swarthmore celebrates its sesquicentennial year, the College is reflecting on the moments and individuals who shaped the institution. The celebration so far has included a birthday party (complete with Parrish Hall in cake form); a symposium for the Future of the Liberal Arts, which featured alumni leaders in higher education; and a more-than-history book, Swarthmore College: A Community of Purpose, which was made available to all community members.
One of the key figures of Swarthmore's history is Frank Aydelotte, the College's seventh president. President Aydelotte, who served from 1921 to 1940, is best remembered for the 1922 introduction of the Honors Program that has shaped the College into the world-class institution we know today. Hiring faculty who were experts in their fields, reducing the student-to-faculty ratio, and making admission more competitive elevated the academic standards of the College as a whole. These actions helped ensure our continued success into the future.
Aydelotte also realized that a strong financial standing for the College would positively impact access for students and opportunities for the entire campus community. Not only did Aydelotte invest himself in the success of Swarthmore, he established one of the first charitable gift annuities with the College. Choosing to trust Swarthmore with his financial investment, Aydelotte paved the way for Swarthmore alumni to give to the College while also planning for retirement.
Aydelotte was not, however, the first to make a planned gift to Swarthmore. As Swarthmore established itself, both before and after its founding in 1864, many prominent Quakers contributed to the fund to establish the school and helped garner additional financial support. One of these early supporters was Samuel Willets, a successful Quaker businessman. Not only did Willets support the mission of Swarthmore, he contributed significantly to establish the school and later helped fund the rebuilding of Parrish Hall.
Willets' greatest financial contribution, however, was through his estate. When Willets died in 1883 he bequeathed $100,000 to Swarthmore for the education of "poor and deserving children." His gift gave Swarthmore one of its first estate gifts, established a legacy of estate gifts to the College, and also reinforced the important value of ensuring access to Swarthmore for all students, no matter their financial background.
The legacy of generosity from Swarthmore alumni and community members continues to impact the experience of Swarthmoreans. An intellectually rigorous academic community, a beautiful campus, and the encouragement to address societal injustices — all cornerstones of a Swarthmore education — have benefited from a long line of generous donors and innovative thinkers like Aydelotte and Willets.