Meet Our Donors
Dr. Lawrence Phillips: Lasting Life Lessons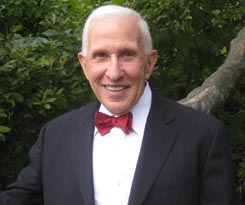 For Dr. Lawrence Phillips, '63, academic rigor and a search for knowledge are Swarthmore hallmarks that have served him well for close to 50 years.
A Harvard Medical School graduate, '67, with a career in medical research, patient care, and teaching, he has truly fulfilled his Swarthmore College ambition of contributing to the good of society through knowledge.
At age 70, Dr. Phillips shows no immediate signs of slowing down. He currently works full-time at Emory University as a professor and as medical director of the Clinical Studies Center at the Atlanta Veterans Affairs Medical Center, with a focus on diabetes. He maintains a balanced lifestyle through extracurricular passions he pursued while at Swarthmore: singing and running. A resident of Atlanta, Georgia, for 28 years, Dr. Phillips has been married to his wife Carol for 41 years, and they have two adult children and two granddaughters. Their son David also graduated from Swarthmore, while their daughter went to Haverford.
Dr. Phillips says that he has been privileged to serve people through a job that he loves, and he feels very strongly that Swarthmore helped him to achieve his goals.
Dr. Phillips chose a charitable remainder unitrust (CRUT) for his gift to Swarthmore. "I really appreciated my experience at Swarthmore and always wanted to give back to the College," he says. "This is a good financial option for me as well as a way to contribute to the College.
"These are difficult times for investors, and the College has an excellent track record with its investments. This is a way to ensure that my wife and I get additional income, and in all likelihood it will give us more than had we invested the funds on our own. It is a wise choice while my wife and I are living, and it's a contribution to the College after we're not. It's a win-win."
Half of Dr. Phillips' gift will go toward the Class of 1963 Scholarship, and half will go toward general needs of the College. "I benefited as a student from the collective wisdom of the College, which created both academic and nonacademic opportunities," he says. "I'm confident the leadership of Swarthmore will continue to be effective and good."
Dr. Phillips also believes that future Swarthmore students will likewise benefit society at large. "We live in a world that inevitably will present challenges for all of mankind. The Swarthmore formula of a rigorous evidence-based approach to ascertaining the truth and a consensual approach to working with other people to figure out the best way forward is what we need again and again, whether the issues are political, economic, medical, academic, societal, or personal. Swarthmore gives students the ability to get to the bottom of problems, and show respect for the needs and thoughts of others. Swarthmore graduates people who want to contribute in ways that are meaningful to society.
"The Swarthmore approach is a good one," he adds. "It has been a wonderful way to go through life."